"Madurai" city in Tamil Nadu, is known as the 'City of Festivals'. It is also known as the cultural capital of Tamil Nadu.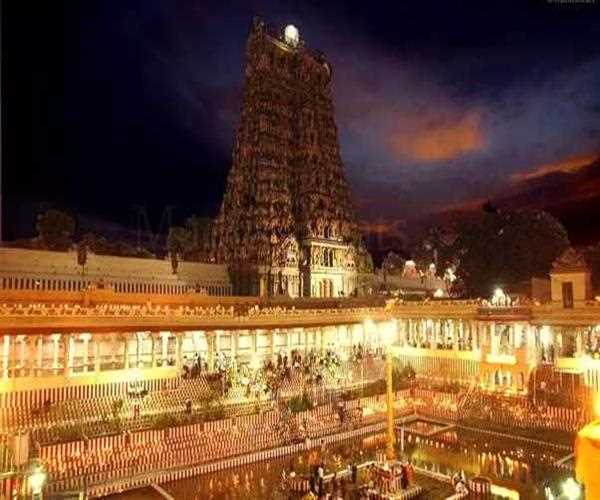 Madurai is
located at the bank of River Vaigai
. The city is also
known as the City of Temples
, among them, the most
famous temple is Meenakshi Amman Temple
is d
edicated to goddess Parvati and her consort Lord Shiva
. Madurai has also been the capital during the Pandyan Dynasty.
It has been believed that the famous Meenakshi Amman temple was ransacked by the Muslim invader Malik Kafur in the 14th-century and the new structure have been built in the 17th-century again.
The city is also famous for its quality and quantity
production of Jasmine flowers known as Madurai Malligai
, which is mostly sent for export. The city was evolved as the political and industrial complex during the
British Rule
in the 19th and 20th centuries and become the district headquarters of districts which were even larger than Madurai.
The name City of Festival is because of numerous
festivals
celebrated in the city, among them few are
Meenakshi Tirukalyanam, a 10-day annual festival
celebrated during the month of April-May, and
Jallikattu, a game of taming angry bulls
,
Pongal a three-day festival
is one of the principal festivals of Madurai. It is a harvest festival that is celebrated in the month of January to pay a tribute to the Sun God for a good crop.
Avanimoolam Festival which celebrates the coronation of Lord Shiva
,
Navratri, Festival of Cradle, Float Festival
, and many more.
The
official language of the city is Tamil
, but Hindi and English were also spoken widely. Apart from the number of temples, the
city is also famous for its renowned weaving mills and dyeing industries
. 'Chungadi' the cotton sarees are the specialty of the city with a colorful tie and die designing over it. Along with this, the Handicrafts, Bronze items, Brassware, Wooden Toys are being the most bought souvenir of Madurai.