A special Stamp on Ramayana theme was released by Indonesia. This special commemorative stamp was released in honor to mark the 70th Anniversary of Diplomatic ties between India and Indonesia.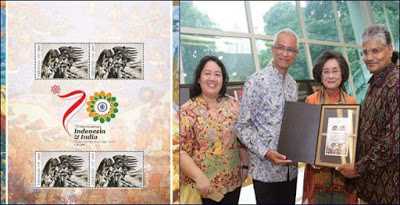 The special stamp was
designed by the Indonesian Sculptor Padmashri Award winner Bapak Nyoman Nuarta
. The
stamp features the famous incidence from Ramayana in which Jatayu valiantly fought to save Sita
. The stamp release event was officially attended by Indian
Ambassador
Pradeep Kumar Rawat and
Foreign Minister
of Indonesia Abdurrahman Mohammad Fachir. This event was jointly organized by the two countries to mark the 70th Anniversary of India and Indonesia's Diplomatic ties.
A
specially signed version of the stamp will be held for display at the Philately Museum in Jakarta
. The display of stamp based on India's epic Ramayana represents the significant improvement in the relations of both the countries and this relation has been made a memorable over due to this great initiative by the Indonesian
Government
Authorities. The high point of relations between both the countries was in 2018, over the Comprehensive Strategic Partnership during the visit of Indian
Prime Minister
Narendra Modi.
The initiative between both the countries made
a milestone in the development of the bilateral relations which begins from President Soekarno's participation as Chief Guest at the Republic Day
Celebration of India. The picture exhibition of the stamp will be put on display for public viewing at the
National Museum at Jakarta from April 25, 2019, to May 5, 2019
. The event also had the arrangement of a special photo exhibition which marked the various landmark moments between India and Indonesia ties since 1949 to 2019. As well as, the Indian Cultural Dance performance was also arranged by the Indian troupe at the event.