National Highway 44 (NH 44) is the longest highway in India. Its total length is 3,745 Km. running from Srinagar in North to Kanyakumari in the South.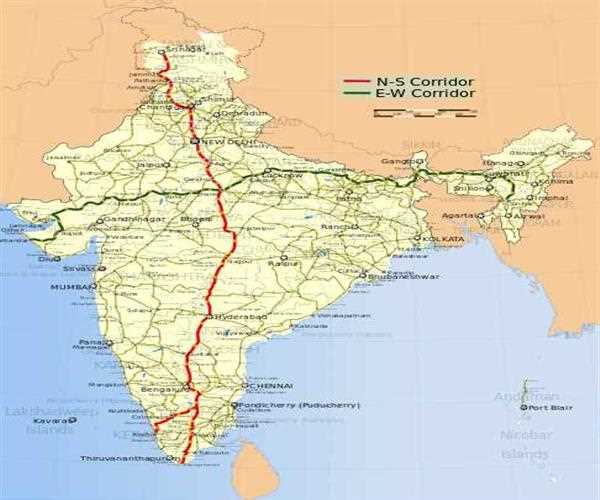 NH 44 connects 11 States
of the Country and about
30 important cities
with each other. NH 44 is constructed and is maintained by the Central Public Works Department (CPWD). The National Highway c
ame into existence after merging fully or partially with previously constructed seven Highways
. The seven Highways are, NH 1A connects from Srinagar in
Jammu and Kashmir
, NH 1 which starts from
Punjab
and Haryana, and ends at
Delhi
, then connected with parts of NH 2 which starts from Delhi and end at Agra, after this, NH 3 which starts from Agra and end at Gwalior, former NH 75 and former NH 26 to Jhansi, and lastly connects to NH 7 through Nagpur, and Adilabad, Nirmal, Kamareddy, Hyderabad, Kurnool, Mahbubnagar, Anantapur, Bengaluru, Dharmapuri, Salem, Karur, Madurai, Kovilpatti, and Tirunelveli, and finally NH 44 ends at Kanyakumari.
The 11 Indian States connected through National Highway 44 are Jammu and Kashmir, Punjab, Haryana, Delhi,
Uttar Pradesh
, Madhya Pradesh, Maharashtra, Telangana, Andhra Pradesh, Karnataka, and Tamil Nadu.
The
major infrastructural addition of National Highway 44 is 'Chenani-Nashri Tunnel'
. The tunnel was
inaugurated by Prime Minister of India, Narendra Modi, on April 2, 2017
. It is the most significant addition to this highway. A part of about 82 Km. of NH 44 between Bengaluru and Krishnagiri is
selected as the part of 'Golden Quadrilateral'
and was headed under National Highways Development Project.