The tension on the US-Mexico border immigration issue refers to the ongoing debate and political conflict over the flow of immigrants and asylum seekers attempting to cross the border between the United States and Mexico. This has been a contentious issue for many years, with the US government taking various measures to stem the flow of illegal immigration, including building a physical barrier along the border, increasing immigration enforcement, and tightening asylum rules.
In recent years, there has been a significant increase in the number of migrants, particularly from Central America, attempting to enter the United States through the southern border. This has put a strain on the resources of border communities and immigration enforcement agencies and has led to a humanitarian crisis. The Biden Administration has been working on a comprehensive approach to address the underlying causes of migration and improve the asylum process.
The Trump Administration had implemented a 'zero-tolerance' policy that resulted in the separation of families, and policies like the 'Remain in Mexico' policy, which forced asylum seekers to wait in Mexico while their cases were processed in the US. These policies were widely criticized and were halted by the Biden Administration.
What is the reason for the border crisis?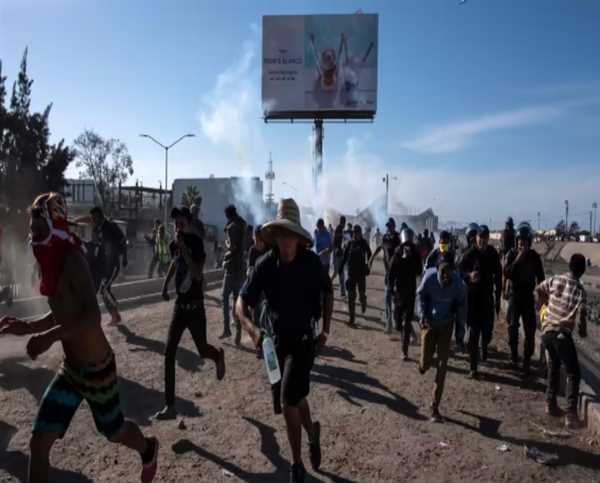 Economic and political instability in Central America: Many migrants are fleeing poverty and violence in countries such as Honduras, El Salvador, and Guatemala, which has led to an increase in the number of people attempting to cross the US-Mexico border.
Lack of legal pathways for migration: Many migrants are attempting to enter the United States illegally because they lack the proper documentation or because the US has limited the number of refugees and asylum seekers it will accept.
Climate change: Climate change has caused natural disasters and food insecurity, which has forced people to leave their homes and seek refuge elsewhere.
US immigration policy: Some experts argue that US immigration policy, including increased enforcement and tightened asylum rules, has contributed to the crisis by making it more difficult for migrants to enter the country legally and by creating a backlog of asylum cases.
Misinformation and smugglers that promise a better life in the US, which might not be true, also push people to take the dangerous journey.
The issue has been a contentious one in the US political arena, with different political parties having different approaches and ideas to deal with it. Democrats have called for a more humanitarian approach, like providing aid to countries from where migrants are coming and creating a pathway for undocumented immigrants to gain legal status. Republicans, on the other hand, have emphasized stricter border enforcement and limiting legal immigration.
The situation on the US-Mexico border continues to be a complex and multifaceted issue, with no easy solution. The Biden Administration has been working to address the root causes of migration, including poverty, violence, and political instability in Central America, and to ensure that the US immigration system is more fair, humane, and efficient.