The FIFA 2022 World Cup has finally come to a close and the winner has been announced – Argentina! After a closely contested tournament, the Argentine team has emerged triumphant, winning the coveted trophy and the title of world champions.
Argentina has long been a powerhouse in the world of football and they have finally been rewarded with the ultimate prize. The team was led by iconic GOAT Lionel Messi, who was the driving force behind their victory. He was inspirational in their run to the final, leading his team to victory with his own outstanding performances.
The team was led by the experienced Lionel Messi, who was instrumental in the team's success. He scored three goals in the tournament, including a crucial one in the final. The other key players in the team were Paulo Dybala, Angel Di Maria, and Sergio Aguero.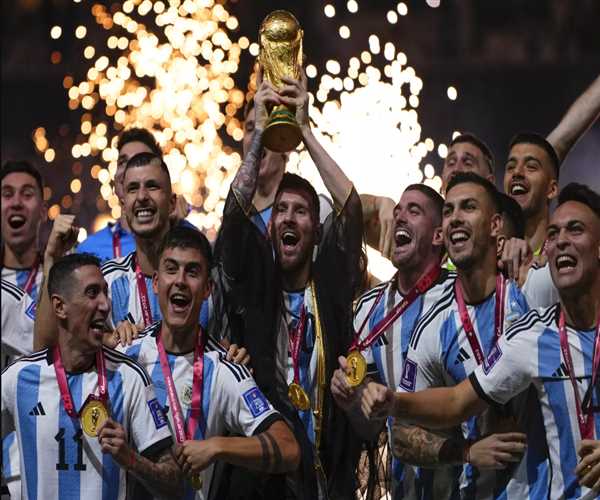 Argentina and France deadlocked after regulation time plus an additional 30 minutes of extra time in the thrilling final. Argentina prevailed with a score of 4-2 to secure victory in the penalty shootout that settled the match. Mbappe of France scored a hat trick while Messi of Argentina scored two goals, but ultimately Mbappe's efforts were in naught.
The victory was also significant for Messi. After coming close to winning the World Cup in 2014, he finally got his hands on the trophy in 2022. Messi was named best player of the tournament and his performance throughout the entire competition was simply outstanding.
The victory was met with a huge celebration in Argentina, as the team was welcomed home with jubilation. It is a moment that will be remembered for a long time, as it was the first time in 36 years that Argentina won the World Cup. This is a proud moment for all Argentines, as their team has won the highest prize in world football. There can be no doubt that this victory will be remembered for many years to come and it is a moment of huge pride for the nation. Argentina has won the FIFA 2022 World Cup – congratulations!
The top 4 team rankings for the 2022 FIFA World Cup are as follows:
Argentina(Winner), France (Second), Croatia (Third), and Morocco (4th)
Kylian Mbappe won the Golden Boot.
Lionel Messi received the Golden Ball.
Enzo Fernandez received the FIFA Young Player Award.
Emiliano Martinez received a golden glove.