'Me-Dam-Me-Phi' festival of the "Tai Ahom" community belonging from 'Assam'. Through the festival, the Tai-Ahoms pay respect and offering to their departed ancestors and even offer sacrifice to God by following the traditional manner.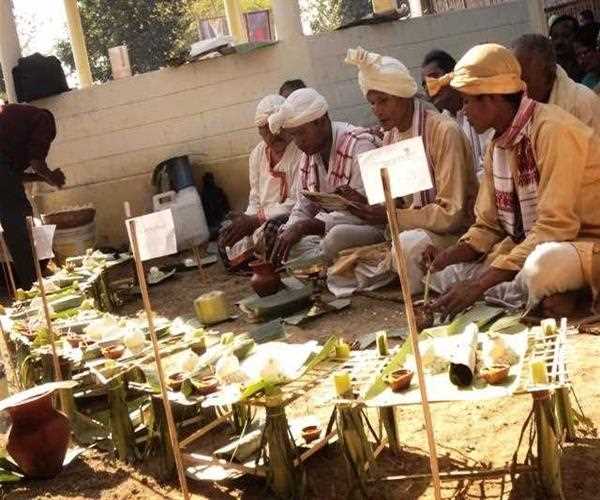 Usually, the festival is celebrated on 31st January of every year in all over the state. The meaning of the name of words like 'Me' means offerings, 'Dam' means ancestors and 'Phi' means gods. Overall it means 'Prayer to the Deceased or Deities'.
The
celebrations of these rituals can be dated back in history to 1606 A.D.
when legendary Swargadeo Sukapha, the Ahom King, performed the
festival
rituals at Charaideo.
'Charaideo' is one of the most important locations of performing ceremonial rituals of Tai Ahom history
. However, the festival again got its public recognition during the late 20th Century, when the Assam Gana Parishad under the
leadership
of the then
Chief Minister of Assam, Prafulla Mahanta, announced a public holiday on 31st January
for celebrating the Me-Dam-Me-Phi festival rituals.
As per the Tai Ahom community belief, a man does not reborn after death.
One of the important customs of the community is that the dead body is not burnt whereas, kept in a box. This process is called ''Maidam''.
According to the rituals, there are three different types of Me-Dam-Me-Phi festivals are organized
.
First, Public festival
usually celebrated for the King, country, and people;
Second, Domestic festival
is usually celebrated with five raised bamboo platforms for gods i.e. Maihang; and
Third is again a type of Domestic festival
which is celebrated with three Maihangs or the three raised bamboo platforms.
The holy book of the Ahoms is 'Pak-Pen-Kaka'
. The book is kept on the place of worship.
As the Me-Dam-Me-Phi
festival
is celebrated all over the Assam. However, nowadays you can find more celebration in the districts of Dibrugarh, Sivasagar, and Lakhimpur on this festivity occasion day because of the presence of the majority number of Ahoms in these areas.