The first Indian female boxer to win an Olympic medal is Mary Kom. Born as Chungneijang Mary Kom Hmangte on March 1, 1983, in Kangathei, Manipur, Mary Kom is a trailblazer and an icon in Indian boxing. She has achieved remarkable success in her career, becoming an inspiration for aspiring athletes across the country.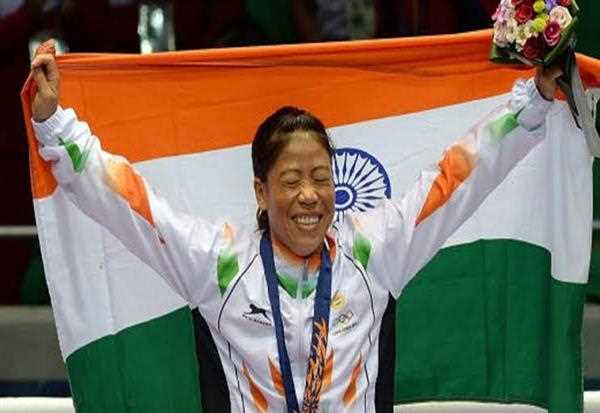 Mary Kom's boxing journey began at a young age. Despite facing cultural and societal challenges, she was determined to pursue her passion for the sport. Kom started training in boxing in 2000 and quickly rose through the ranks with her dedication, discipline, and talent.
In 2001, Mary Kom won a silver medal at the inaugural Women's World Amateur Boxing Championships held in the United States. It marked the beginning of her illustrious career in international boxing. She continued to excel in subsequent tournaments, winning multiple medals at the AIBA Women's World Boxing Championships.
However, it was at the 2012 London Olympics that Mary Kom etched her name in the history books. Boxing in the flyweight category (51 kg), she displayed incredible skill, determination, and resilience throughout the tournament. Mary Kom advanced to the semi-finals, securing at least a bronze medal, ensuring her place in Indian sports history.
In the semi-finals, Mary Kom faced Nicola Adams from Great Britain, a formidable opponent. Although she lost the match, Mary Kom won the bronze medal, becoming the first Indian female boxer to achieve this feat in the Olympics. Her historic achievement brought attention to women's boxing in India and inspired a new generation of female athletes.
Mary Kom's success extended beyond the Olympics. She has won several gold medals at the Asian Women's Boxing Championships, Asian Games, and Commonwealth Games. Her relentless pursuit of excellence and her ability to overcome challenges have made her an iconic figure in Indian sports.
Off the boxing ring, Mary Kom has been a strong advocate for women's empowerment and the development of boxing in India. She has used her platform to inspire and support young athletes, particularly girls, to pursue their dreams. Mary Kom's determination and success have shattered stereotypes and paved the way for future generations of female boxers in India.
In recognition of her achievements, Mary Kom has been honored with numerous awards, including the prestigious Padma Vibhushan, Padma Bhushan, and Arjuna Award. Her story has been adapted into a biographical sports film, "Mary Kom," further elevating her status as a role model and national hero.
In conclusion, Mary Kom, with her historic bronze medal win at the 2012 London Olympics, became the first Indian female boxer to win an Olympic medal. Her achievements in the boxing ring, combined with her advocacy for women's empowerment, have made her an iconic figure in Indian sports. Mary Kom's indomitable spirit, skill, and commitment continue to inspire generations of athletes in India and around the world.