The Popular Front of India (PFI) is a political party in India founded in 2006. The party's stated goal is to protect the rights of minorities and marginalized communities, and promote social justice. PFI is active in many states across India, and has a strong presence in Kerala, Karnataka, Tamil Nadu, and Telangana. The PFI was founded by a group of Islamic scholars and activists who were disillusioned with the Indian National Congress and the left-wing parties. The PFI's stated aim is to 'establish an Islamic state in India'.
Here are some interesting facts about the PFI:
1. PFI was founded by Abdul Nazar Madani, a former member of the Islamic extremist group, Students Islamic Movement of India (SIMI).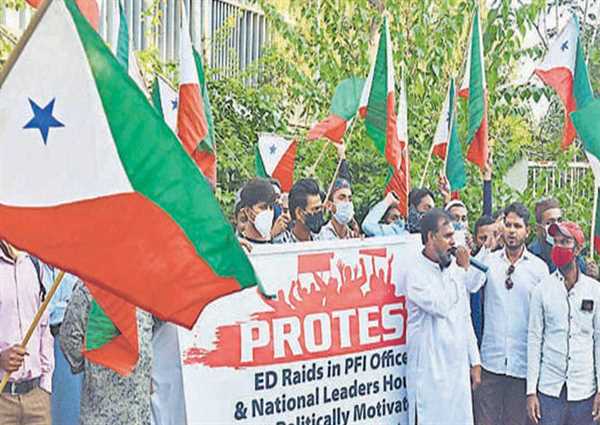 2. PFI has been accused of having links to terrorist groups such as the Lashkar-e-Taiba and the Indian Mujahedeen.
3. PFI has been banned in Karnataka, Kerala, and Tamil Nadu.
4. PFI is believed to have a strong network of madrasas, which are used to indoctrinate and recruit young people into the party.
5. PFI has been accused of violence and riots in several states across India.
6. PFI has been linked to several high-profile murders, including the killing of rationalist Narendra Dabholkar and journalist Gauri Lankesh.
7. PFI is also accused of forced conversions of Hindus to Islam.
8. PFI has been banned in the United Kingdom.
9. PFI is considered to be a threat to India's national security.
The PFI has been accused of involvement in the 2007 Hyderabad Mecca Masjid bombing, the 2010 Pune German Bakery bombing, and the 2013 Bangalore blasts. The organisation has also been accused of links to the Islamic State of Iraq and the Levant (ISIL). The PFI has been banned in the Indian states of Kerala, Karnataka, Maharashtra, and Uttar Pradesh. The PFI is believed to have a membership of around 2 million.