What is your review of Rangeela Rasool?
Due to its satire of the Islamic prophet Muhammad's marital life, the book was thought to be very contentious. Blasphemy became prohibited in India as a result of its publishing, which may have helped to encourage the country's partition.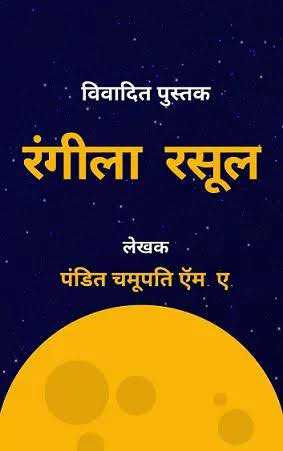 When Rangina Rasul was released in May 1924, all of its copies were gone within a short period of time.
It was authored by Pandit Chamupati, a member of the Hindu reformist Arya Samaj group, and was first published in Urdu before being translated into Hindi (or Champovati). Many of the Arya Samaj sect's leaders and ministers had gained notoriety by insulting other religions, notably other Hindu sects, thus it was no stranger to religious controversy.
The book discusses Muhammad's marriages and his proclivity to take wives.
On the surface, Rangila Rasul seemed to be a poetic and laudatory work on Muhammad and his teachings, but it was actually mockery. But some of the controversial ideas in the book do align with what the Islamic tradition says happened in Muhammad's life. This includes how it praises the prophet's marriage and treats it in a bhakti-like manner.
This happened as a result of the author's familiarity with Islamic literature. In 1927, Section 295A was introduced. Rangila Rasool is the case that becomes significant since it is connected to the creation of Section 295A.
Rangila Rasool was a tract that was published by a Hindu publisher and contained insulting statements regarding the Prophet's personal life. The Punjab and Haryana High Court dismissed cases brought against the first pamphlet under Section 153A after considering whether attacking religious personalities was distinct from attacking faiths.
Conclusion.
Many Muslims regarded Rangeela Rasool as being virulently insulting to the Prophet. It was the third attempt on Rajpal's life when, in 1929, after successfully defending himself in court, Ilm-ud-din brutally attacked and killed him in his business.
Rajpal Malhotra's oldest son, Viswanath, quickly established the company as one of the venerable old publishing enterprises in the Kashmere Gate and Daryaganj region after Rajpal & Sons relocated to Delhi in 1947 as a result of Partition. It generated a regular stream of best-sellers, including works by professor Amartya Sen, Harivansh Rai Bachchan, Kamleshwar, and Dinkar in Hindi.
Hope you liked my answer!