The present Secretary-General of the United Nations Organization is António Guterres.
The secretary-general of the United Nations is the
organization's highest organizational leader and the leader of the United Nations Secretariat, one of the UN's six primary departments
. Chapter XV of the United Nations Charter defines the secretary-and general's secretariat's roles. The
requirements, selection process, and duration of the position,
on the other hand, are subject to judgment; they have been defined by tradition.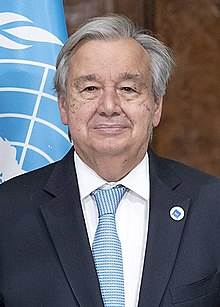 Guterres is the first former head of state to be appointed secretary-general, and the first secretary-general born after the United Nations was founded. From 1995 until 2002, he served as Portugal's Prime Minister. He has also served as President of the Socialist International (1999–2005) and as High Commissioner for Refugees of the United Nations (2005–2015).