Darvaza gas crater, also recognized as the 'Gateway to Hell,' is situated near Darvaza, also identified as Derweze.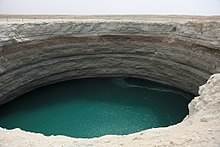 The
Darvaza gas crater
also referred to as the
Door to Hell or the Gates of Hell
, is a natural gas ground in
Turkmenistan
that disintegrated into a cavern. There are
no meticulous statistics
of how the crater sparked, and some information is contested. One of the more theoretical approaches holds that
Soviet geologists
deliberately set a fire in 1971 to avoid the
growth of methane gas
and that it has been
burning ever since
. The gas crater is 5,350 m2 in size. The crater attracts a lot of the
tourist population
and has become a
tourist destination.
The immediate region is also well-known for its
wild desert camping.