The
Supreme Court
instructed the Centre on Monday to form a
panel to investigate
the claimed security incident during
Prime Minister Narendra Modi's
visit to Punjab last week. According to the order of the Supreme Court, the panel will be led by a former Supreme Court judge. It will also include the
DGP of Chandigarh
, the IG of the
National Investigation Agency (NIA),
the Registrar General of Punjab, and the high courts of
Haryana
.
The former judge and other officials will be named in the Supreme Court's order, which will be issued later today. A three-judge panel comprised of
Chief Justice NV Ramana, Justices Surya Kant, and Hima Kohli
was hearing a plea filed by an NGO called 'Lawyers Voice' against the occurrence in
Ferozepur
on January 5. During the hearing, the court stated that there was 'a violation, which the
Punjab government
has also accepted.' 'The concern is, if an investigation is conducted, what will be the extent of it. What remains for this court to consider if you wish to take disciplinary action against officers? 'It stated.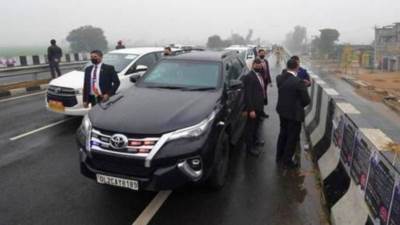 The court also informed the national
government
that the show cause notice is issued to Punjab authorities was 'self-contradictory.' 'By forming a committee, the Centre aims to determine whether there was a violation of the
Special Protection Group (SPG) Act
and if so, it holds the
Punjab Chief Secretary and Director General
accountable,' it continued. The court also directed the national and
Punjab governments
not to proceed with their investigations into the incident.
PM Modi was scheduled to visit the
Ferozepur
region on January 5, but his travel was ended prematurely and his address had to be postponed after his cavalcade came to a halt on a flyover due to farmers' agitation. Many
BJP
officials have criticized the
Punjab administration,
stating that details of PM Modi's itinerary were shared with
unauthorized individuals, resulting in a road roadblock by protestors.