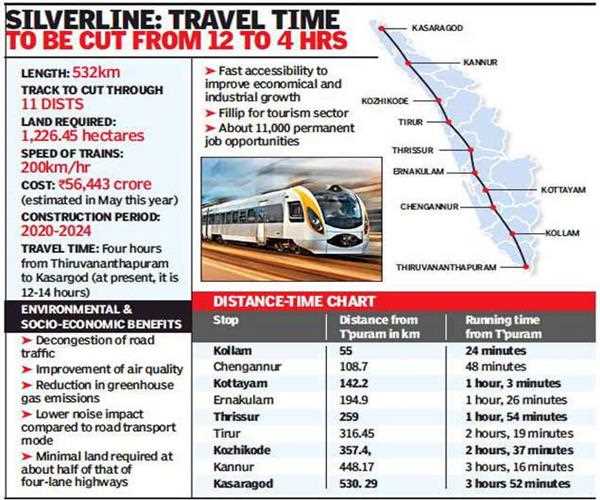 The Thiruvananthapuram–Kasaragod Semi High-Speed Rail Corridor, commonly known as the Silver Line, is a proposed high-speed railway in India that would link Thiruvananthapuram, Kerala's capital city, with Kasaragod, also in Kerala. It will move at a speed of 200 kilometers an hour, enabling trains to complete the 532-kilometer journey in much less than 4 hours, compared to the present period of 10 to 12 hours. The stations in this corridor will be Thiruvananthapuram, Kollam, Chengannur, Kottayam, Ernakulam, Nedumbassery Airport, Thrissur, Tirur, Kozhikode, Kannur, and Kasaragod.
K-Rail, a joint venture corporation between the Ministry of Railways and the Government of Kerala
, is preparing the project's Detailed Project Report. The railway line intends to reduce traffic congestion between the state's northern and southern areas, while simultaneously decreasing travel times and combating climate change. The project comprises a
roll-on/roll-off (RORO) rail service
that transports road vehicles as well as improved feeder public transportation services from stations. However, the proposed use of
Standard Gauge instead of Broad Gauge
will limit the line's Ro-Ro capacity.