Vinayak Damodar Savarkar, also known as Vir or Veer, was a Hindu and Indian nationalist who was a leading figure in the Hindu Mahasabha, a Hindu nationalist organization and political party. He was born on May 28, 1883, in Bhagur, India, and died on February 26, 1966, in Bombay [now Mumbai].
He is influenced by radical politicians such as Lala Lajpat Rai, Bal Gangadhar Tilak, and Bipin Chandra Pal, and he leads the gang in revolutionary actions. He studied at Pune's 'Fergusson College' and earned his Bachelor's Degree.
On the lines of the 'Revolt of 1857', Veer Savarkar thought of the guerrilla war for attaining Independence. He wrote a book titled 'The History of the War of Indian Independence' which inspired a lot of Indians to fight against the British for freedom. Though the book was banned by the British it gained popularity in several countries. Not only this, he made manual bombs and guerrilla warfare and distributed them among friends. He also provided legal defense to his friend Madan Lal Dhingra, who was accused in a murder case of a British Indian army officer named Sir William Hutt Curzon Wyllie.
Veer Savarkar's older brother in India organized a protest against the 'Indian Council Act 1909,' also known as the Minto-Morley Reform. In addition, the British Police stated that Veer Savarkar had plotted a crime and issued a warrant against him in response to the demonstration. To avoid being apprehended, Veer Savarkar fled to Paris, where he sought refuge at Bhikaji Cama's home. He was apprehended by British police on March 13, 1910, but the French government became annoyed when British officials did not commence adequate legal actions to apprehend Veer Savarkar in Paris.
In 1911, the Permanent Court of International Arbitration decided on a dispute between the British authorities and the French government. Let us inform you that Veer Savarkar was found guilty and condemned to 50 years in prison, as well as deportation to Bombay. On July 4, 1911, he was transported to the Andaman and Nicobar Islands. He was imprisoned at the infamous Kala Pani 'cellular Jail.' In prison, he was subjected to harsh torture. But his nationalist spirit persisted, and he began teaching his fellow inmates to read and write there. He also obtained government approval to start a modest library in the prison.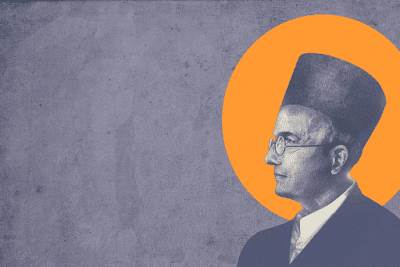 Veer Savarkar
was elected president of the
Hindu Mahasabha in 1937
. On the other hand,
Muhammad Ali Jinnah declared Congress rule to be 'Hindu Raj,'
exacerbating the already simmering tensions between Hindus and Muslims. Veer Savarkar, the president of the '
Hindu Mahasabha,
' urged Hindus to help the British during WWII.
Veer Savarkar's thought was unmistakably his own, incorporating ethical, theological, and philosophical views. His political philosophy combines humanism, rationalism, universalism, positivism, utilitarianism, and realism. He also campaigned to remove social injustices in India, such as caste prejudice and untouchability. His novels inspired young people, and his brave behavior gained him the nickname 'Veer,' and he became known as Veer Savarkar.