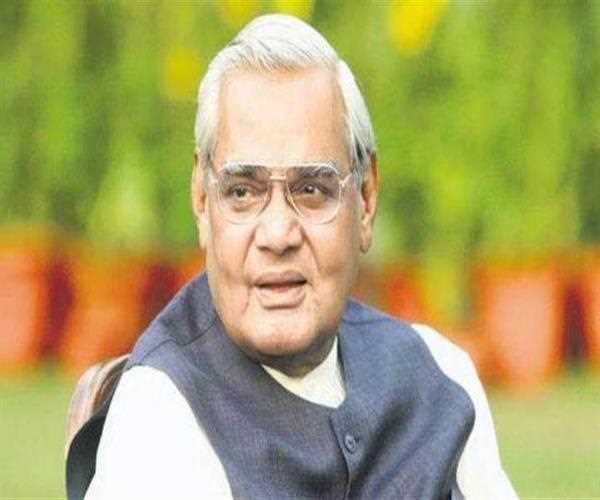 The 'Bharat Ratna' Pandit Atal Bihari Vajpayee was truly the 'Bharat Ratna', called 'Bharat Ratna', the true son of Mother India, the nation's man, the nation's guide, the true patriot, no matter how many titles. Above all, Pandit Atal Bihari Vajpayeeji was a good man, who did politics by being connected to the land and made his special place in the hearts of people as 'Prime Minister of the people'. A man who was popular among children, youth, women, elderly.
Every youth, child of the country considered him as their ideal. Atal Bihari Vajpayee decided to remain unmarried for a lifetime and discharged till his last time. Of course, Pandit Atal Bihari Vajpayeeji was a bachelor, but every youth of the country was like his child. Crores of children and youth of the country were his children. Pandit Atal Bihari Vajpayee ji had a special affection for children and youth. Because of this attachment, Pandit Atal Bihari Vajpayee used to make a special place in the hearts of children and youth. Pandit Atal Bihari Vajpayeeji's work as a politician and Prime Minister who established values ​​and ideals in the politics of India was excellent. It is because of his works that he is called the visionary of India's structural development.
The public life of Atal Bihari Vajpayee, a rich pundit of multifaceted personality who won the hearts of everyone's favorite and opponents, was very clean and clean. Because of this impeccable image and clean public life, everyone respected Atal Bihari Vajpayee. His opponents were also his admirers. For Pandit Atal Bihari Vajpayee ji, national interest was always paramount, when he was called Rashtrapush. The words and thoughts of Pandit Atal Bihari Vajpayeeji were always logical and young thoughts were reflected in his thoughts. This glimpse made him popular among the youth. Whenever Pandit Atal Bihari Vajpayeeji spoke in Parliament, the opposition could not speak anything in front of his reasoned speech. Through his poems, Atalji always attacked social evils. His poems will always inspire his fans to follow the right path.
Atal Bihari Vajpayeeji, the era man who traveled from the RSS pracharak to the Prime Minister, was born on 25 December 1924 on the occasion of the big day in Gwalior. Atalji's father's name was Pandit Krishna Bihari Vajpayee and mother's name was Krishna Vajpayee. Father Pandit Krishna Bihari Vajpayee was a teacher in Gwalior. Krishna Bihari Vajpayee was a well-known poet of Hindi and Braj as well. Atal Bihari Vajpayee originally belonged to Bateshwar, an ancient place in Agra district of Uttar Pradesh state. Therefore Atal Bihari Vajpayee had a special attachment with Agra, including the whole of Braj. Atal Bihari Vajpayee's BA education took place at Victoria College, currently known as Laxmibai College, Gwalior. After graduating from Victoria College, Gwalior, Atal Bihari Vajpayee also obtained a postgraduate degree in Arts from DAV College, Kanpur.
Atal Bihari Vajpayee was an avid speaker and poet. He inherited these qualities from his father. Atal Bihari Vajpayee was fond of giving speeches from school time and always participated in competitions such as debates, poetry recitations and speeches in school. Atal Bihari Vajpayee became a volunteer of the Rashtriya Swayamsevak Sangh since his student days and continued to participate in the Rashtriya Swayamsevak Sangh branches. Atal Bihari Vajpayeeji also worked as a journalist in his life and for a long time also edited many newspapers and magazines filled with national sentiment like Rashtradharma, Panchajanya and Veer Arjun. Atal Bihari Vajpayee was a founding member of the Bharatiya Jana Sangh and for a long time worked with sharp nationalist leaders like Dr. Shyama Prasad Mukherjee and Pandit Deendayal Upadhyay.
Pandit Atal Bihari Vajpayee was also the National President of Bharatiya Jana Sangh from 1968 to 1973. Atal Bihari Vajpayee won the Balrampur Lok Sabha seat of Uttar Pradesh for the first time in the 1957 Lok Sabha elections as a Jana Sangh candidate. Atalji continued to be the leader of the parliamentary party on behalf of the Jana Sangh from 1957 to 1977. Atal Bihari Vajpayeeji impressed even the first Prime Minister of the country, Pandit Jawaharlal Nehru with his brilliant speeches. Once upon hearing Atal Bihari Vajpayee's powerful speech in Parliament, Pandit Jawaharlal Nehru had told him even the future Prime Minister and later on Pandit Jawaharlal Nehru's prediction also proved to be true.