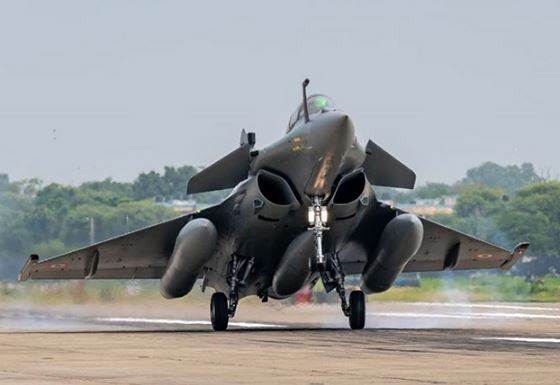 Rafale is a useful fighter aircraft. It costs 70 million to build an aircraft. The length of this aircraft is 15.27 meters and only one or two pilots can sit in it, after the arrival of Rafael, the Indian Air Force will become stronger. Let's know about the characteristics and features of the enemy's flying Rafale which makes it so special.....

Rafael aircraft was made by French aviation company Dassault Aviation. This fighter aircraft is of 2 engines. First, in 1970, there was a demand by the French Army to replace its aging fighter aircraft. Later, France started working on a multi-purpose fighter aircraft project with 4 European countries, but after some time France had differences with those countries, due to which France alone later on the project.
Rafael's features
The biggest feature of this aircraft is that it specializes in fighting even in high areas. Rafael can reach a height of 60 thousand feet in a minute. It is capable of flying with a maximum weight of 24,500 kg. Its maximum speed is 2200 to 2500 km.
It is per hour and its range is 3700 km. According to media reports, Rafael is equipped with low band jammers, radar warning receivers, Israeli helmet-mounted displays, infrared search tracking systems and a 10-hour flight data recording system.
Rafael is a very useful fighter aircraft. It costs 70 million to build an aircraft. The aircraft has a length of 15.27 meters and can seat only one or two pilots. The Rafale aircraft has a carrying capacity of 9500 kg and is capable of flying for an additional 60 hours with a maximum weight of up to 24,500 kg.
Rafael is 15.27 meters tall and 5.3 meters high. Its fuel capacity is about 17 thousand kilograms. Rafael can fly up to 60 thousand feet altitude in one minute Rafale can fly at a speed of 2,223 kilometers per hour. Rafael is a two-engine fighter jet, equipped with Rafale Meteor and Scalp missiles, which are also capable of hitting from ground to air. Rafael's scalp range is around 300 km.
Rafael's radar can detect 40 targets at a time within 100 km. So that the Indian Air Force would be able to see them without knowing the enemy aircraft. The specialty of detecting 40 targets simultaneously makes this fighter jet more special than others.