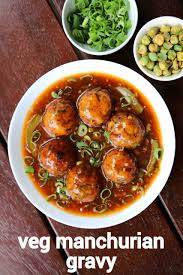 If you like to eat Chinese, then make vegetable Manchurian at home during a party or get together. It is very easy to make and very tasty to eat with fried rice or Hakka noodles.
Your family as well as your guest will love Veg Manchurian. Its taste is very yam, so children also love to eat manchurian. Come, let us know what things will be needed to make Veg Manchurian at home…
Preparation Time: 15 min
Cooking time: 4 min
Total Time: 40 min
Servings: 8
Veg Manchurian ingredients:-
Cabbage 1 cup (finely chopped)
Carrot 1 (finely chopped)
Ginger 2 inch (finely chopped)
Garlic 4 (finely chopped)
Green chili 2 (finely chopped)
Green onion half bunch (finely chopped)
Corn Flour 50g
All purpose flour 2 tbsp
Salt to taste
Black pepper powder 1 tsp
Tomato sauce 2 tablespoons
Soya sauce 2 teaspoons
Water 1 cup
Oil 1 cup
Green onion leaves for garnishing
Method of making veg manchurian
Step 1
Squeeze out the extra water from the finely chopped cabbage and carrots and mix well with corn flour, black pepper powder, salt, maida, a little ginger, a little garlic and a little green onion to prepare the mixture.
Step 2
- If you are having trouble making balls with this mixture, then you can add a little more corn flour to it. Make small balls from this mixture and keep it in the fridge for about half an hour.
Step 3
Now take it out of the fridge and put it in refined oil and deep fry till it becomes golden.
Step 4
- Heat oil in a pan to make gravy. Add the remaining ginger, garlic and green onion and cook it well.
Step 5
Now add salt, pepper powder, tomato sauce, soya sauce and mix well.
Step 6
Now add 1 cup of water and when it starts boiling add corn starch paste in it.
Step 7
When the gravy starts thickening, add fried vegetable balls to it and turn off the gas.
Step 8
Finely chop the green portion of the green onion and serve the vegetable Manchurian hot with it.