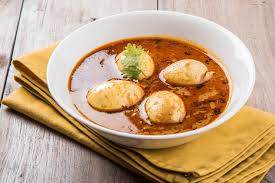 Make delicious egg curry at home in this way, you will get great taste
A glance
Recipe Quizine: Indian
For how many people: 1 - 2
Time: 30 minutes to 1 hour
Meal Type: Non-Veg
Necessary ingredients
4 eggs
Three onions (finely chopped)
Three teaspoons ginger-garlic paste
Two tomatoes (finely chopped)
Two green chillies (finely chopped)
Two tablespoons coriander leaves (finely chopped)
Half teaspoon cumin seeds
Half a teaspoon red chilli powder
Half a teaspoon turmeric powder
One teaspoon coriander powder
One teaspoon garam masala powder
One fourth teaspoon pepper powder
A cup of water
Three tablespoons oil
Salt to taste
Method
First of all, boil eggs in a small vessel on medium heat.
After boiling the eggs, turn off the heat and put the cold water in a bowl and keep the eggs in it for some time.
When the egg cools, peel off, make an incision with a knife, or make a hole with a tooth pick / match stick. (So that the egg can be spiced in the inner part.)
After this, keep the oil in a pan on medium heat to heat.
After the oil is hot, add boiled egg to it and fry till it becomes light golden from all the sides.
After frying the eggs, take them out in a plate and add cumin seeds in this oil and fry till they crackle.
After this, add onion and ginger-garlic paste to it and fry it till it becomes golden.
After frying onions, add green chillies and tomatoes, mix well and fry for 3 to 4 minutes and then cover and keep for 5-6 minutes.
After the time when onion and tomato are melted well, add black pepper, red chilli, turmeric, garam masala and coriander powder and fry it while stirring for 2 to 3 minutes.
After this, add salt to it and mix it well and fry it while stirring for 2 minutes.When all the spices are roasted well, add water and cook until 1 to 2 boil.
After boiling, add egg and cover it and cook for 5 to 7 minutes.
Turn off the heat after the fixed time and add coriander leaves and mix well.
- Egg curry is ready, take it out in a bowl and eat it hot with roti or rice and feed it to others.