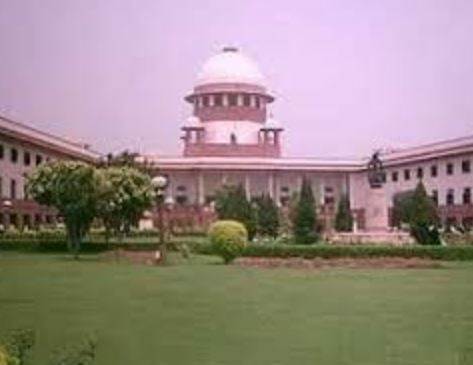 The Supreme Court of the country came into existence on 26 January 1950. After 2 days i.e. on 28 January, the Supreme Court started working.
Earlier, the country's largest judicial institution was the 'Federal Court of India'. Its work was done in the 'Chamber of Prices' of Parliament House. When the Supreme Court came into existence, it was inaugurated here and for the next several years, it used to run from here.
First Chief Justice of Supreme Court Hiralal J. Kania was At the same time, the first woman Chief Justice was Fatima Biwi, who took charge in the year 1959.
In the year 1958, the Supreme Court was shifted from the Parliament House Complex to the headquarters located on Tilak Marg in New Delhi. There is a total of 15 court rooms in the Supreme Court building, the specialty of the building is that it has been made like a pan of scales, which is the same on both sides.
At the time of the establishment of the Supreme Court, the total number of judges including the Chief Justice was fixed at 8. The Constitution has given Parliament the right to increase the number of judges. Seeing the work increasing, the number of judges was increased. Provision of 11 judges in 1956, 14 in 1960, 18 in 1978, 26 judges in 1986. In the year 2009, this number was increased to 31.
You must have often heard that 3 judges 'bench, 5 judges' bench. Actually, seeing the number of judges increasing in the Supreme Court, a bench (bench) of 2-3 judges was made according to the case. Sometimes according to the demand of the case, a large bench of 5 or more judges is also made.
The system of appointment of judges in the Supreme Court and High Court is called the 'Collegium System'. Through this system implemented from 1993, it is decided to transfer, posting and promotion of judges. The collegium is a group of 5 judges. There are 4 senior judge members of the Supreme Court including the Chief Justice of India.
The NDA government created the National Judicial Appointments Commission (NJAC) to revamp the system. It was a constitutional body proposed by the government, which was later scrapped.
There was a proposal to have 6 members in the NJAC, which included the inclusion of 2 senior SC judges, law ministers and 2 eminent personalities from various fields as members along with the Chief Justice of India. But it was quashed, the court said that the new law for selection and appointment of judges is non-constitutional. This will affect the independence of the judiciary.
The age of superannuation of the judges of the Supreme Court is 65 years, the President has the right to remove the Supreme Court judge. In such a situation, it is necessary to bring a motion to remove that judge in both houses of Parliament, as well as a two-thirds majority resolution.