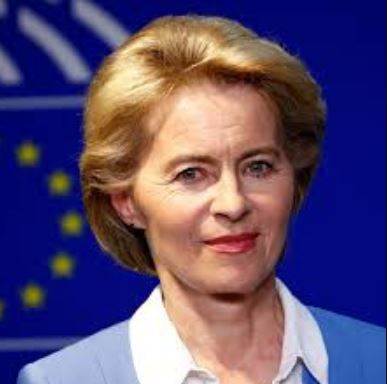 In July 2019, the European Council nominated Ursula von der Leyen to succeed Jean-Claude Juncker and was elected the 13th Chairman of the European Commission by the European Parliament on 16 July. Ursula Gertrude von der Leyen (born: October 1958) is a German politician who served as Minister of Defense from 2013 to 2019. Born and raised in Brussels, she is a physician by profession. She is the only minister to have served Angela Merkel's cabinet continuously since she took office in 2005.

She was married to Heiko von der Leyen, a professor of medicine, CEO of a medical engineering company and member of the von der Leyen family, an aristocratic family known as a silk industrialist. They met a university Göttingen. They have seven children, David (1987), Sophie (1989), Donata (1992), twins Victoria and Johanna (1994), Egmont (1998), and Gracia (1999). The von der Leyen family is a Lutheran member of the Evangelical Church of Germany.
On 2 July 2019, von der Leyen was proposed by the European Council as a candidate for President of the European Commission. She was then elected by the European Parliament on 16 July. She took office on 1 December, becoming the first woman to become President of the European Commission.