"Amazon" clinches the top spot in the World's Most Valuable Brand Ranking by overtaking Apple and Google.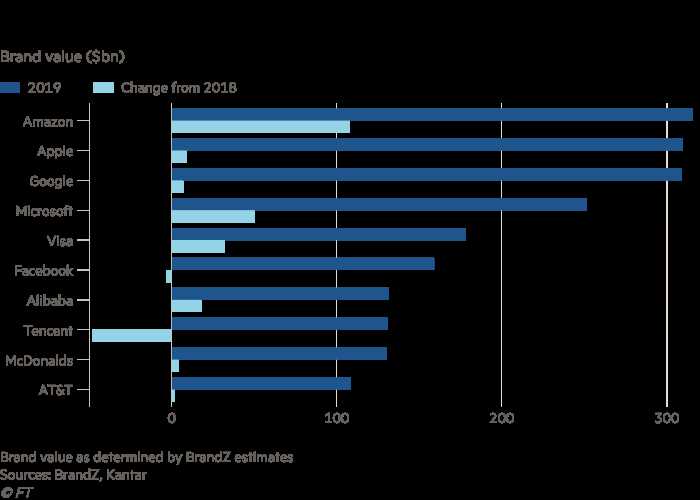 The total compiled
value of Amazon by WPP Research Agency Kantar is $315.5 Billion
. Whereas the company at
second rank is "Apple" with a combined value of $309.5 Billion
, and the
third rank company is "Google" with a combined value of $309 Billion.
The reports were released by the "BrandZ" Top 100 Most Valuable Global Brand ranking 2019, compiled by WPP Research Agency Kantar. According to the previously released reports, Google and Apple had spent a combined 12 years at the top of the list, however, Google taking the top spot in 2018, by leading the Apple.
Amazon's jumps so much due to its selling a variety of services and expanding its business into grocery, healthcare, food delivery and, with its Alexa devices, even voice recognition.
Amazon took a huge leap of 3rd to 1st place to take over the position of Google. The brand of Amazon costs of about 52 percent to $315 billion. Along with this,
Amazon has been continuously increasing its investments
in a number of companies because its core business is slowing down. And the new investment venture of Amazon includes self-driving car a start-up 'Aurora' and Electric truck company 'Rivian'. With this other business is Amazon Air,
Airplane
business. Amazon also bought online pharmacy namely 'PillPack' for $753 million in 2018 and last month fetch a $575 million funding round in the food delivery company 'Deliveroo'.
The major services provided by Amazon are Amazon.com, Amazon Alexa, Amazon Appstore, Amazon MusicAmazon, and PrimeAmazon Video. The total revenue of Amazon in the year 2018, was $232.887 Billion. With providing great consumer experience and expertise, these brands of Amazon are crossing over into the business services sector as well and introducing new opportunities for the growth of the brand.