"Padmaja Alaganandan" became the new Chief People Officer (CPO) as announced by the 'PwC India' (PricewaterhouseCoopers). She took over the role of CPO from Jagjit Singh who held the post for about 5 years.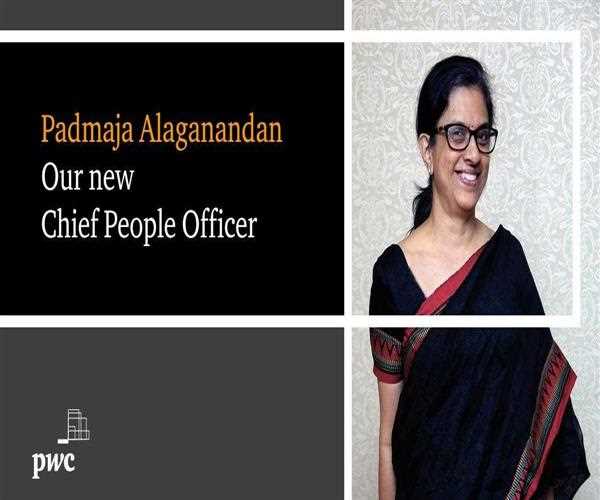 Padmaja Alaganandan has been in association with PwC from the last 8 years. Before taking as the Chief People Officer she has been the Technology Sector lead for PwC's Advisory Line of Service. Padmaja also played the role of the leader of the firm's People and Organisation Consulting practice in a very effective manner. However, before joining PwC in 2011, Padmaja worked in leadership roles in different organisations such as Mercer Consulting and AF Ferguson. She is also a member of CII's National HR Committee and the Committee of Skill Development. Overall, she had more than 25 years of consulting experience in business and human capital advisory under numerous industries.
Padmaja Alaganandan completed her graduation from the University of Madras, and the Post-Graduation from the Indian Institute of Management Calcutta (Kolkata).
Padmaja was also the speaker over regional forums such the
Asia Pacific
Total Rewards Conference of the World at Work in Singapore. She also addressed the listeners at the Asian Development Bank's Women Leader's forum in Manila. In addition to this, she had another feather on her cap as she is been the founding partner of Social Venture Partners Bangalore, a philanthropic organization which is committed towards making a difference at the local level.
After resuming her appointment as Chief People Officer she addressed the audiences and expressed the importance of fostering an enabling
environment
within PricewaterhouseCoopers as well, specifying that "Building a well balanced and inclusive workforce is a key to our business." The firm PwC was formed in 1998 under the merger between Coopers & Lybrand and Price Waterhouse. Later the trading name of the firm was shortened to PwC in September 2010 as the part of marketing and an effort of re-branding the company.