The Father of Helicopter
The person who was the father of modern-day helicopter designs was Igor Sikorsky His design was called VS-300. It uses a tail rotor like today's helicopters, and can take off the water!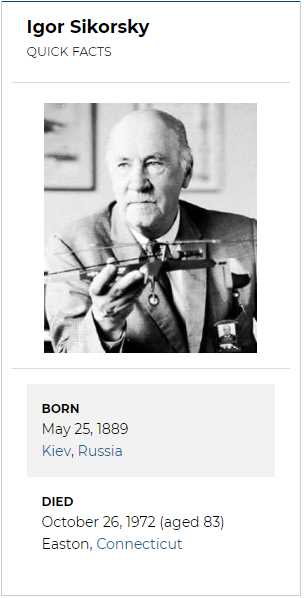 Sir Sikorsky's name is always associated with helicopters, Igor Sikorsky (1889-1972) was a versatile aviation designer and developer. In his 50 years of career, he did pioneering work on fixed wing aircraft and flying boats.
He was born in Kiev, Russia (now Ukraine). Sikorsky always had an interest in the plane. He dreamed of a palatial flying machine at the age of 11, which was brilliantly decorated, a dream he had completed after years when he created a flying passenger boat, S-40, for Pan American World Airways. Because it led to international air travel. Sir Sikorsky's father was a physician and professor of psychology. And his mother also was a physician but never practiced professionally. Her great interest in art and in the life and work of Leonardo da Vinci undoubtedly stimulated her son's early interest in experimenting with model flying machines; when he was 12 years old, he made a small rubber-powered helicopter that could rise in the air.