Muralidhar Miryala, a Telangana NRI living in Japan, is one of 30 NRIs honored with the Pravasi Bharatiya Samman Award, including three from the Gulf.
The award is the
President's highest honor bestowed on a Non-Resident Indian (NRI) Person of Indian Origin (PIO), or organization or institution
founded and maintained by NRIs or PIOs as part of the
Pravasi Bharatiya Divas conference.
Sudhakar Jonnalagadda of Andhra Pradesh, a well-known US-based Telugu doctor, Saudi-based entrepreneur Siddeek Ahmed, a community activist, ENT doctor in Qatar Mohan Thomas, and Bahrain businessman KG Baburajan were among those who received the highest honor for NRIs.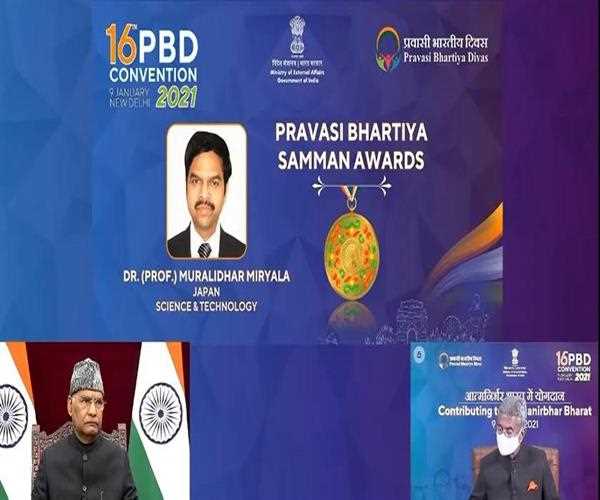 'Contributing to Aatmanirbhar Bharat'
was the subject of the
16th PBD Convention 2021.
In light of the Covid epidemic,
President Ram Nath Kovind
presented the honors
in a
virtual ceremony.
Muralidhar is a resident of Karvena village in the district's Atmakur Mandal and a graduate of Jadcherla Degree College in Mahabubnagar. Before migrating to Japan, he completed his M.Sc. and PhD at Osmania University in Hyderabad. In Japan, he is the deputy president of the Shibaura Institute of Technology.
Muralidhar is regarded as one of the top scientists in the world when it comes to high-temperature superconductor cable wires, which are used in Japan's high-speed rail system. In high-speed rail technology, India and numerous other developing countries have a strategic collaboration with Japan.
He had previously been honored by the Japanese government's Railway Technical Research Institute as the 'Best Researcher.' India honored him for his tremendous contributions to science and technology as well as his efforts to promote India internationally.
'I am delighted to receive this honor, which has previously been conferred upon renowned personalities such as Satya Nadella (Microsoft CEO) and President SR Nathan (Singapore's former President),' he stated.