Black Tornado The three sieges of Mumbai 26/11 is a book written by a journalist named Sandeep Unnithan.
Sandeep is Deputy Editor in India Today Magazine based in New Delhi having a degree in ancient Indian culture from St Xavier college Mumbai he mainly writes on security-related issues
. Never in the history India we had witnessed such a ghastly, cowardice act perpetrated by anyone which took place on 9/11 in Mumbai 2008.
The city which never stops stood still as a group of terrorist attacks took place when 10 members of Lashkar Taiyba (LeT) an Islamic terrorist organization based in Pakistan carried out a series of shooting and bombing in the business capital of India for 4 days.
Mumbai which has a long maritime boundary its security was breached as terrorists reached the city through the sea. The coastal police of Mumbai could not track them and a series of a deadly act which killed 164 and wounded 308 was committed by demons.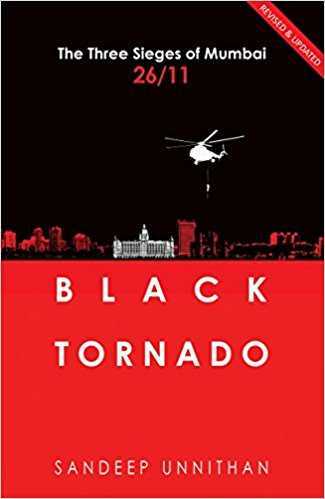 Ajmal Kasab the lone survivor among the terrorists disclosed that they mercenaries who were paid and controlled by Laskar-E-Taiba. The attacks were mainly done on CSMT Chhatrapati Shivaji Maharaj station and hotel Taj where 58 people were killed. The terrorist continued abominable act for three days until NSG was deployed to kill those dreaded killers. The city which is known for its glamour and glimmer was covered in black smoke and screaming, screeching sound of people who lost their near and dear ones engulfed city completely.