Bollywood has now evolved and it has evolved in the most appropriate way. Now we have observed that makers and directors are covering each and every genre while making the movies. Now we can see more biopics, movies on real-life incidence, movies which relate the viewer with its surroundings.
Picking up a movie and which could be said as one of the most underrated Bollywood movies is really a tough task.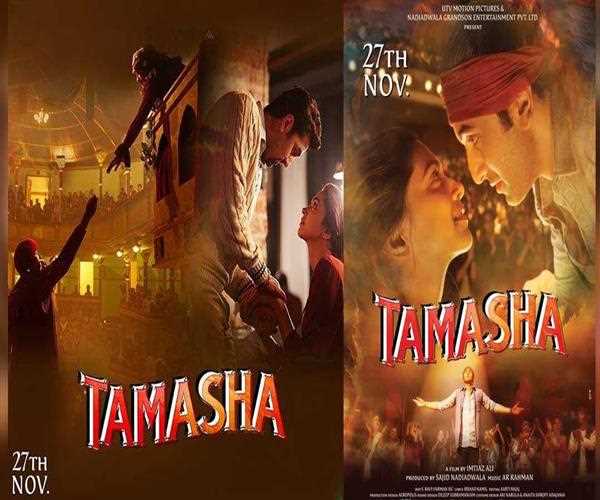 So as if I have to give an answer to such question I think 'Tamasha' is the most underrated Bollywood movie.
I don't remember the exact number of time I have defended this movie and Tamasha is in the list of top 10 Bollywood which I have watched.
Released in the year 2015 Tamasha stars Deepika Padukone and Ranbir Kapoor a romantic drama film which was written and directed by one of the most renowned directors of Bollywood Imtiaz Ali. Produced by Sajid Nadiadwala under his banner Nadiadwala Grandson Entertainment, its music and background were given by A.R Rehman.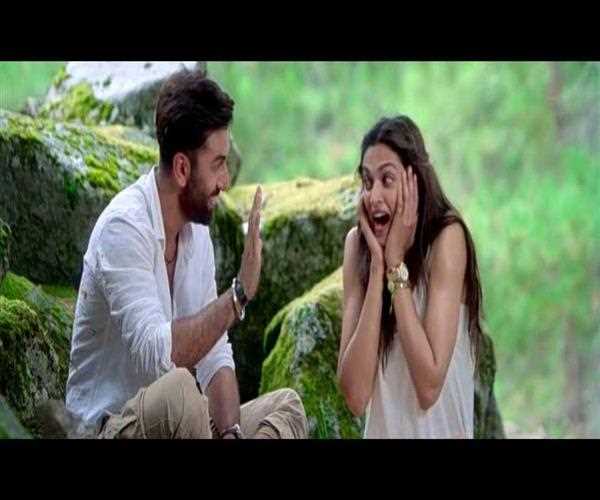 Tamasha portrays the story of Ved (Ranbir Kapoor's character name) and Tara (Deepika Padukone's character name) who are in the corporate world. The movie reveals that how monotonous life of a person is and how a person is bound to go to work in which he isn't interested in because that's what practical folks do.
As in the movie Ved was fascinated by a storyteller in his childhood and wanted to become a storyteller just like him but when he reached his adolescence his life get controlled by his parents and he ends up doing engineering.
The story of Tamasha is actually a story which every youngster can get related with as there is often times every youngster's life where we have to make decisions which are not satisfactory for us but still we have to go with the flow for the sake of people which are related with us.
There were sequences in which Ranbir Kapoor gets so filled and frustrated inside that he just keeps himself quit he doesn't speak much and repeat the things which he does each and every day crushing his every emotion, desires, and feeling.
Some epic dialogues from the movie
1.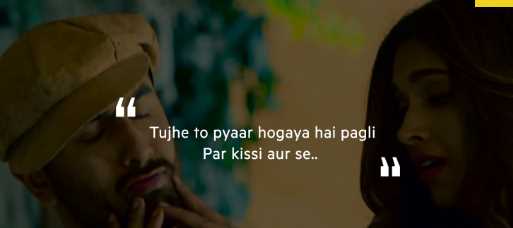 2.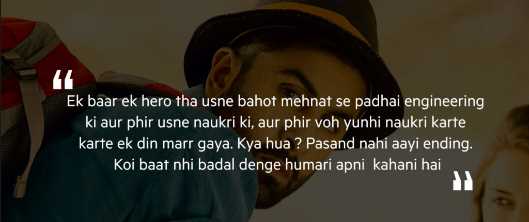 3.

4.
The movie depicted how a person has to do the things which he not even enjoys a single percent just like a robot. Well in the movie Tara is the girl who saves Ved and takes him out from an isolated and frustrated state.
Tara brings out the character which was hidden deep inside Dev the character which was fun loving and free spirited and was dying every day. In between these obstacles a beautiful love story has been portrayed in which there is a lot of love, negativity, hate and joyful bond. The song Agar Tum Saath Ho have just taken that relationship to a next level.
So Tamasha is the movie which i personally think is the most appropriate movie which every youngster should definitely watch as it has the potential and story which will definitely help one to clear his concept towards his life.