Are you looking to create goals in Google Analytics? Many people find this process confusing and intimidating, but it doesn't have to be. With a few simple steps, you can easily create and track goals in your Google Analytics account and use them to get actionable insights about your website or app.
Google Analytics is one of the most powerful tools available to today's digital marketers. It helps to track your website's performance, identify problem areas, and measure your success. But how can you use Google Analytics to help you create and achieve your goals?
1. First, you need to decide what goals you want to track. Goals can represent any type of the desired outcome from a user's interaction with your website or app. Common goals include completing a purchase, signing up for an email list, or downloading an app.
Once you've determined your goals, the next step is to create them in Google Analytics. To do this,
Log into your Google Analytics account and go to the "Admin" tab.
Under the "View" section,
click "Goals" and then "+New Goal."
2. Second step -Set up your goal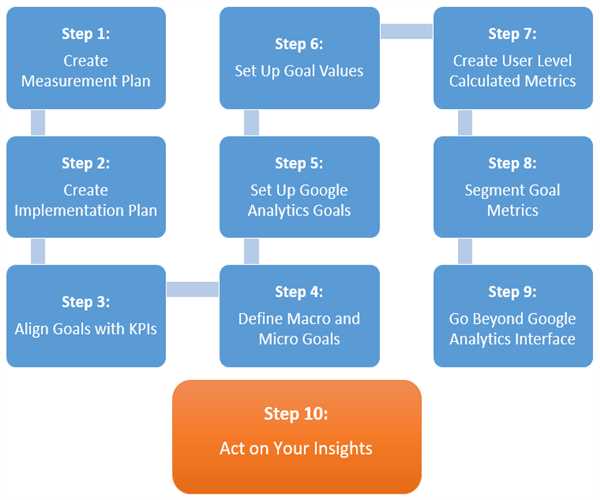 Once you've identified your goal, you can now set up your goal in Google Analytics. This step involves selecting the goal type, setting a goal description, and goal details, and a goal funnel.
The goal type is the type of action you are trying to track, such as a purchase, sign-up, or download.
The goal description is a brief description of the goal you're trying to track. The goal details are the specific details of your goal and the goal funnel allows you to define the steps that users must take to complete your goal.
You'll then be prompted to choose from four goal types: Destination, Duration, Pages/Screens per Session, or Event. After selecting a goal type, you'll need to fill in the goal details, such as the Destination URL or the Event Action. You'll also be able to set a goal value, which is an estimated value of the goal.
Once you've created the goal, you'll be able to track it in Google Analytics.
3. The third step - Track your goal
Once you've set up your goal, you're ready to track it. Google Analytics provides various reports that you can use to track your goal. These include the Goals Overview report, which shows an overview of all your goals, and the Goal Flow report, which shows a visual representation of how visitors move through your goal funnel.
To view the goal performance,
click on "Reporting" and select "Goals" from the left-hand menu.
Here, you'll be able to see how the goal is performing, including the total number of conversions, the conversion rate, and more.
Creating goals in Google Analytics can be a great way to measure and track your website or app performance. By setting up goals and tracking them in Google Analytics, you can gain valuable insights about your website or app performance and make more informed decisions.