Justice H.J Kania was appointed as the first Chief Justice of India. he was also posted as acting Chief Justice of Bombay High Court, Prior to become Chief Justice of India.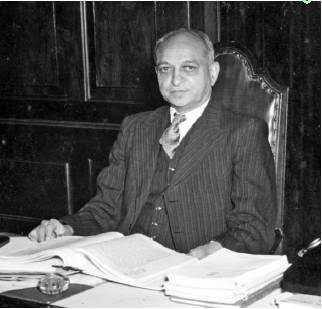 he completed his tenure from 26 January 1950 to 6 November 1951.
he was born on 3 November 1890 and died in his office.
Kania was born in Surat into a middle-class family. his father Jekisundas worked as Sanskrit professor. also, later appointed as principal of Samaldas College in the princely state of Bhavnagar. His grandfather worked with the British Government in Gujarat as a revenue officer , The lawership didn't limited to him only, the elder brother of H. J. Kania, Hiralal Jekisundas was also a barrister whose son Madhukar Hiralal Kania became a Supreme Court judge in 1987, and subsequently Chief Justice.
Kania earned the degree of BA from Samaldas College in 1910, which was followed by an LLB from Government Law College, Bombay in 1912 and an LLM from the same institution in 1913. He began to practise as a barrister at the Bombay High Court in 1915, subsequently marrying Kusum Mehta, the daughter of Sir Chunilal Mehta, sometime member of the executive council of the Governor of Bombay.
hope this was informative!!!