the answer is TEAM INDIA!!!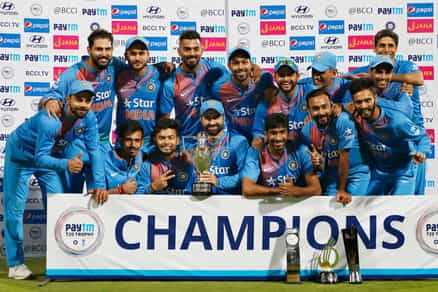 Team India has become the first country in the world to create the record of registering 300-plus totals 100 times in ODIs in 2017.
For almost 21 years since team India started playing one-day international matches, It couldn't reach a 300 or more score in One-days but in the next 21 years, It became the first country to score 300 or more 100 times.
India made this record in the second One-day match against Sri Lanka in Mohali, India in 2017 where India scored 392 for 4. No other team has reached this position so far.
After India it's Australian team who is close to this record. Australia has scored 300 or more runs 96 times. South Africa (79), Pakistan (69), Sri Lanka (66), England (58), New Zealand (52), West Indies (38) Zimbabwe (25) and Bangladesh (11) are far behind this record.
Started on July 13, 1974 India took 21 years, 9 months and 2 days to reach their first 300 score in One-days. India touched 300 runs for the first time in Sharjah on April 15, 1996.
India has achieved this figure 46 times in india and 54 times outside the Indian subcontinent; though India has reached only 31 times in excess of 300 runs. After home country, India scored 300 or more runs in 12 innings in England in most innings. India's record of making 300 runs at home is the highest. South Africa (44) and Australia (42) are in third position. Zimbabwe is the only country in Test playing countries, where India has not scored a score of 300 runs.
India has done this 21 times against Sri Lanka, while against Australia 15 and 14-14 against England and Pakistan scored more than 300 in the innings.
cheers for India!!!