Bodhi Parva!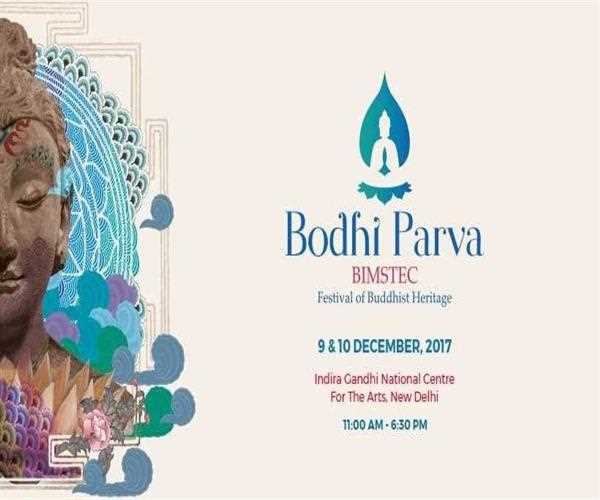 Buddhism has flourished in the cognizance of individuals over the world. With expanding interest - particularly among the youthful - the time has come, to take a gander at the diverse parts of Buddhism. ''BIMSTEC Buddhist Heritage Festival" expects to do as such, in the present setting.
BIMSTEC is a global association including India, Bangladesh, Myanmar, Thailand, Sri Lanka, Nepal, and Bhutan. The land contiguity of BIMSTEC suggests basic social, social and religious linkages. BIMSTEC is a cognizant push to renew relations among these nations.
BIMSTEC has a profound associate with Buddhism, which started in South Asia and afterward voyaged and established itself in South East Asia. Buddhism constitutes a scaffold amongst South and South-East Asia.
To accentuate and bring issues to a light of this rich and normal legacy and check the twentieth commemoration of this special association gathering, a BIMSTEC Buddhism Festival ''Bodhi Parva: BIMSTEC Festival of Buddhist Heritage" has been introduced by the BIMSTEC division of the Ministry of External Affairs and delivered by Teamwork Arts.
A mélange of worldwide exhibitions, films, workmanship, droning, contemplation and philosophical exchanges by known experts and researchers will draw out the embodiment of Buddhism. The widespread message of peace and resilience rehearsed by Buddhism can address the developing feeling of insufficiency even with changes and clashes that individuals and the world face.
India is facilitating the 'Bodhi Parva: BIMSTEC Festival of Buddhist Heritage' in New Delhi from December 8 to 10, 2017 as a major aspect of festivities of the twentieth commemoration of BIMSTEC. The reason for the fest is to underline and bring issues to a light of BIMSTEC's rich and basic legacy. It was introduced by Dr. Mahesh Sharma, the union priest of state for Culture (Independent Charge).
Well, these sort of Cultural Programs actually grows up the knowledge not only about the countries but also its culture!
Cheers to such Parva!