"Asma Jahangir" was from Pakistan and died on February 11, 2018. She was the Pakistani Human Rights Lawyer, Social Activist, and a Critic of the powerful establishment of Army in the Country (Pakistan).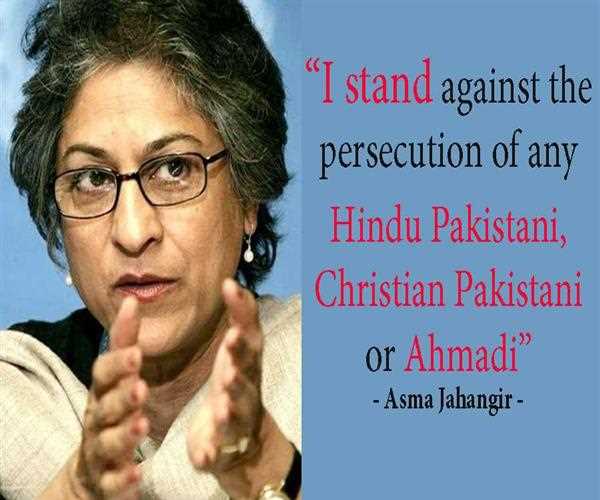 She
took her last breath at a 'Hameed Latif Hospital' at Lahore, on February 11, 2018
. She died at the age of 66 years. She
was the first Women President of Supreme Court Bar Association of Pakistan
. She completed her schooling and higher
education
in Pakistan only. Then, she started her practice at Lahore
High Court
in the year 1980. Whereas, in 1982, she joined the Supreme Court of Pakistan.
In 1983, she got arrested, for participating in the 'Movement for the Restoration of Democracy' against the Military rule of Zia-ul-Haq. Therefore, in 1986, she moved to Geneva and in
1987, she co-founded the 'Human Rights Commission of Pakistan' and become its Secretary-General
. In 1988, she returned back to Pakistan, and in 1993, she has been promoted as the Chairperson of the Commission. Due to her these type of retaliating activities, she
has been put on House-arrest in November 2007
. After that, she performed various other activities in favor of Human Rights, worked in
Sri Lanka
and Israel as well on the fact-finding mission of settlement.
In 2016, she became the 'United Nations Special Rapporteur' and remain on the post until her death in February 2018.
For
her work of Human Rights, she receives various awards in her lifetime
. In 1995, she received 'Martin Ennals Award', in 2002, 'Leo Eitinger Award', in 2005, she received '
Ramon Magsaysay Award
', in 2010, 'Hilal-i-Imtiaz' and 'Four Freedoms Award'. After her death, she got awards as well. On October 26, 2018, she was awarded 'United Nations Human Rights Award' and in the same year,
she was honored with Pakistan's Highest Civilian Award, "Nishan-e-Imtiaz".