Most of the travellers in India and abroad visit hill stations of Northern region. Usually we have seen hundreds of backpackers from different parts of the world pay their visit to all famous hill stations during summers. But travelling to hill stations in winters is altogether a lifetime experience. Travelling in winters is always fun and the right Auli tour package ensures that. You can witness a whole new face of nature at that time of the year. We have list out some of the best places near capital city where you can witness snowfall during winter season.
Shimla
One of the most visited hill station in North India, Shimla is situated at a place near to Himalayas where you can experience amazing climatic conditions especially during winter. This pleasant place is covered by snow in the winter season – Early January – February End/Early March. You can feel freezing cold breezes in a sub-zero condition during winters. You can visit Shimla at any day of the year but if you want to experience snowfall or snow, the best time would be January. In this month, you can definitely witness heavy snowfall. Mall Road of Shimla, Jakhu Temple and the church are the main attractions of the place. If you want to experience a lot more snowfall, you can visit Kufri - almost 30 minutes drive from Shimla. If you are planning to visit any of the above mentioned places during this winter, don't forget to book a hotel in advance. You can get all types of rooms and accommodation in Shimla.
Manali
During winter, Manali is all packed with white soft snow. Snowfall is so obvious in Manali that people from India and abroad come and visits the place to experience never seen before travel experience. Located at 2,050 meters above the sea level, Manali offers you best snowfall in December and January. Rohtang is another snow spot. It is 50 km away from Manali. You can find snow throughout the year. To enjoy all sorts of winter sport activities like skiing, ice skating, visit Manali. Being one of the most popular tourist destinations in Himachal Pradesh, Manali has been a host of a large number of domestic and international tourists 365 days. Getting a perfect place to stay at reasonable price is tough. You can find several hotels and lodges in Manali.
Auli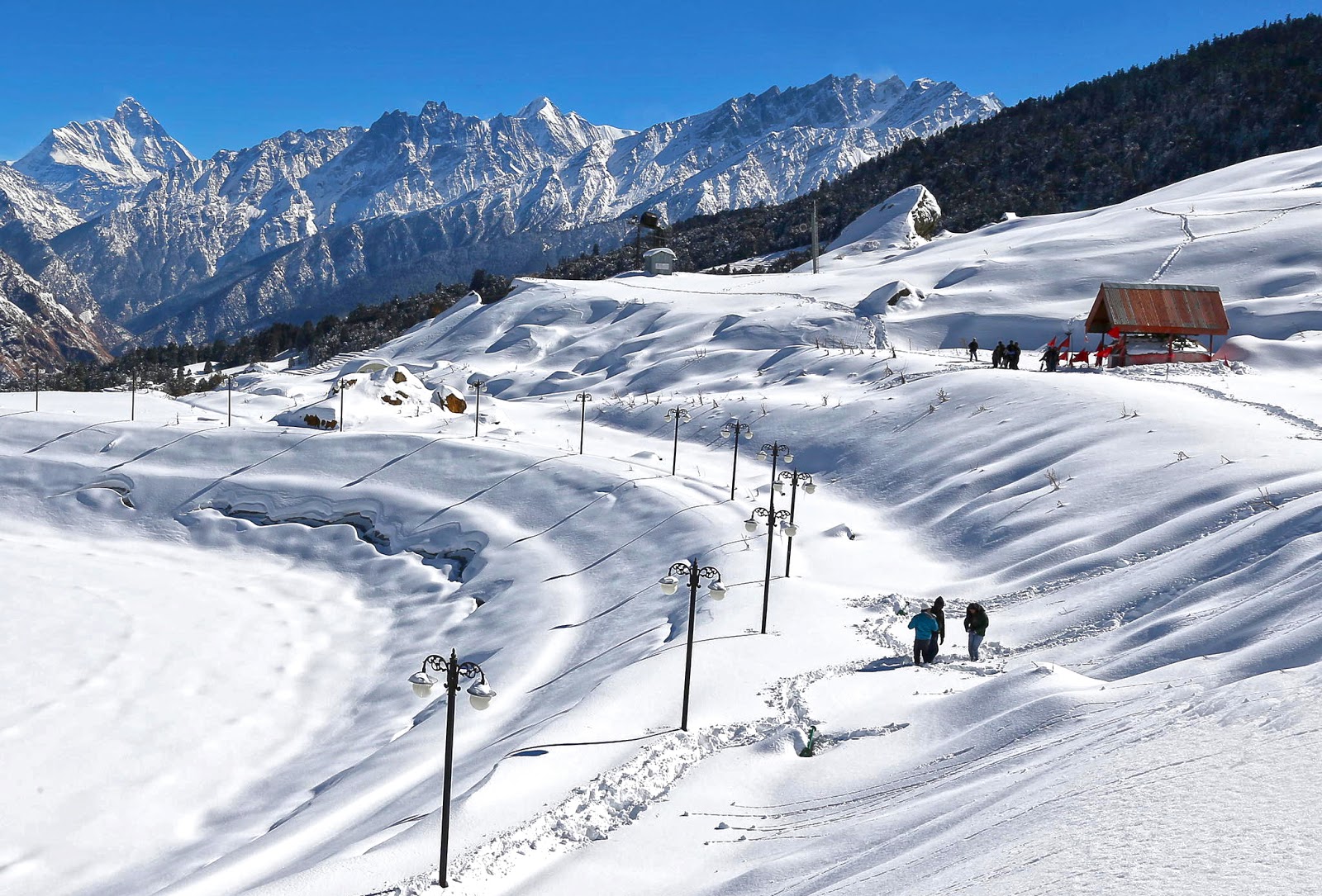 Considered as one of the coldest place in Uttarakhand, Auli is the best place to witness snowfall and during this winter. Known for ice-skating and skiing, the place is located in Chamoli district. Throughout the year, travelers can experience the splendid view of Himalayan range. The best time to witness snowfall in Auli is in December and January. Never forget to search for travel coupons while booking any hotel or room in Auli. You can find numbers of budget hotels online that would help you to save money.
Lansdowne
Experience calm and serene hill station in Northern India, Lansdowne. It has now become one of the most visited places during holiday season. It is one of the famous hill stations in Uttarakhand. You can get heavy snowfall in Lansdowne during winter season. Located in the Garhwal district, Lansdowne is ideal destination for a long weekend. It is well connected by all means of transport.
Mcleodganj
Most of the travelers head to Mcleodganj round the year. There is no better period than winter to visit the place. The place is carpeted by a blanket of fresh and soft snow. The place is amazingly picturesque and beautiful. Finding an affordable place to stay is an issue. Try some of the best budget hotels / resorts online.
Last updated:12/24/2019 2:19:35 AM