What is Informatica Repository?
The Informatica Power Center repository resides in a RDBMS. The repository database tables contain the instructions required to perform ETL Process (extract, transform, and load data). Repository clients access the repository database tables through the Repository Service. A repository client is any Power Center component that connects to the repository.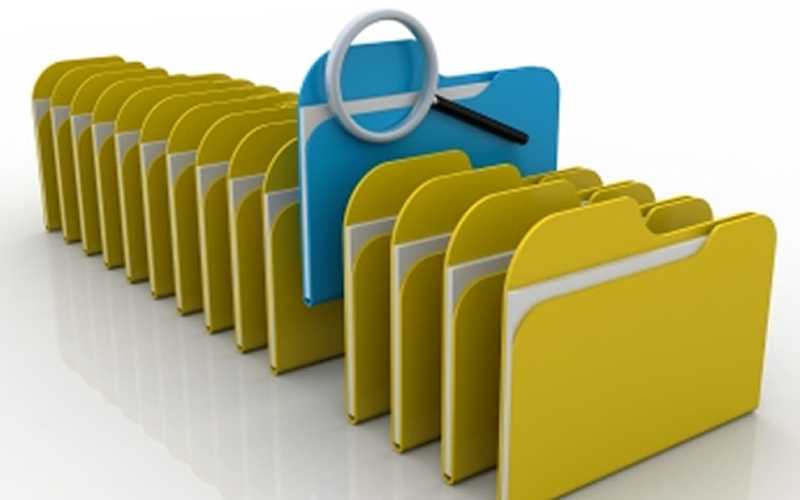 The Repository Service manages repository metadata transaction requests from repository clients. Each Repository Service manages a single repository. The Repository Service uses object-locking to ensure the consistency of metadata in the repository.
The Repository Service accepts client metadata transaction requests from the following Power Center components: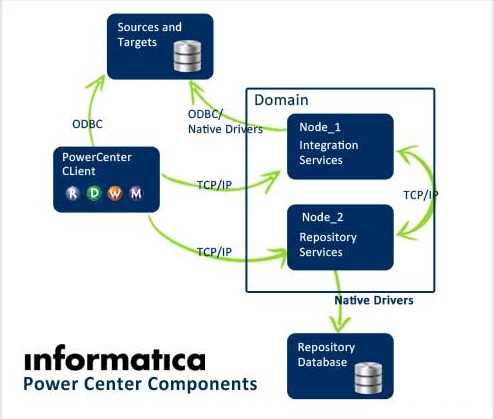 Power Center Client tools: Use the Designer to create and store mapping metadata in the repository. Use the Workflow Manager to store workflow metadata and connection object information in the repository. Use the Workflow Monitor to retrieve workflow run status information and session logs written by the Integration Service. Use the Repository Manager to organize and secure metadata by creating folders. You can manage the repository from the Power Center Administration Console.
PMREP and INFACMD: Use PMREP to perform repository metadata administration tasks, such as listing repository objects. Use INFACMD to perform service-related functions, such as creating or removing a Repository Service.
Integration Service: When you start the Integration Service, it connects to the repository to schedule workflows. When you run a workflow, the Integration Service retrieves workflow task and mapping metadata from the repository. During the workflow run, the Integration Service writes workflow status information to the repository.
Operations of Repository:
Folder Maintenance Task Folders provide a way to organize and store metadata in the repository, including Transformation, mapplet, mappings, and sessions. Folders help you logically organize the repository. Each folder has a set of properties that you can configure to define how users access the folder.
Configure the following task when we work with folder:
• Configure folder properties.
• Compare folders.
• Manage permissions.
• Copy Folder
Open Repository Manager and Configure Domain and Connect to Repository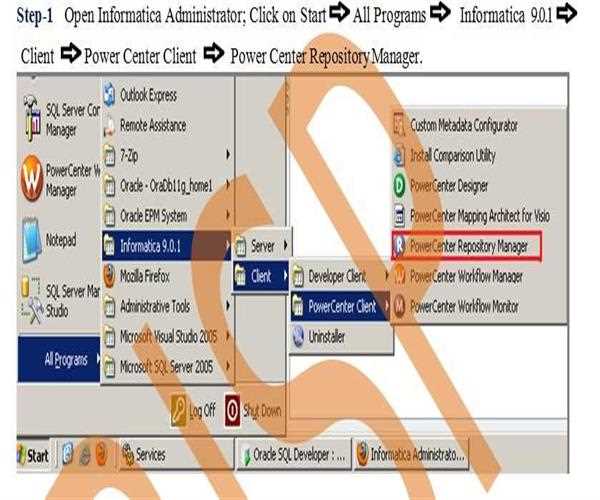 Step-2 Now, We add domain connection information to the Power Center Client so that we can connect to repositories in the domain. Go to Repository tab and click on Configure Domains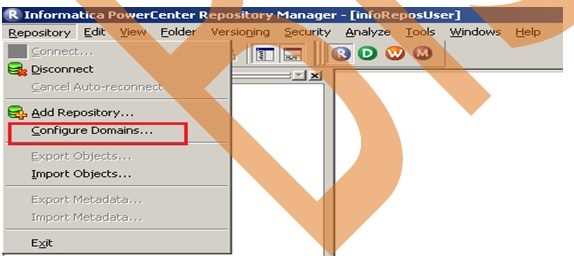 Step-3 Now, Select domain for repository, If no domain in Domains then create new domain, click on Add a New Domain Button.


Step-4 Now, Enter the domain name, gateway host name, and gateway port number and then click OK button to add domain connection.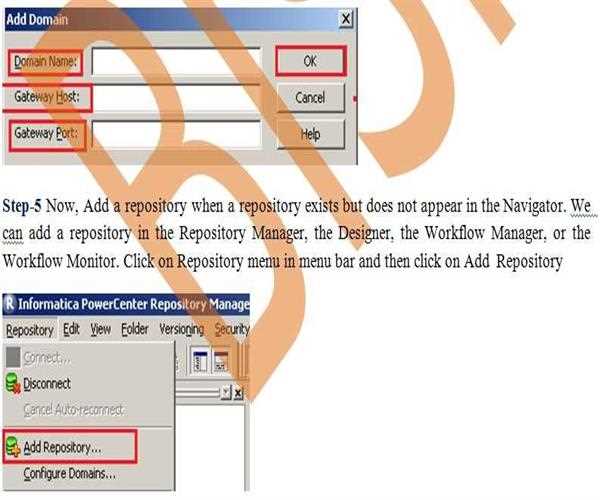 Step-6 Now, Enter Repository name and valid Username and then click OK button



Step-7 Now, Click on connect to repository in Repositories navigator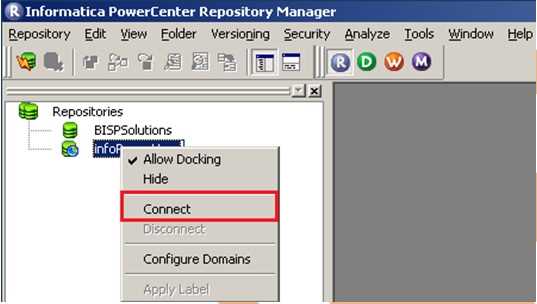 Step-8 Now, give User name and password and click on Connect button to connect repository in Informatica Power Center repository manager environment



We have Prepared a complete end to end Hands on Beginner guide for Informatica Power center. The Document focuses on and show how use parameter file with Variable. If you discovered this post valuable, Make beyond any doubt, you can look at our Web based Learning courses for more tips, traps and methods for successfully to reveal one of a kind bits of knowledge from your information.