Achieving surety of meeting success in future is much more difficult task than to achieve a particular success. Whenever we get engaged with any work, passion or interest in hope of achieving success in it, less stress lie down on our sholuders than in case of achieving surety in future. Where there self doubt and less confidence prevails, there goals are triggered by an irregular moves and suppressions.
There are three stages which comes before a man in a way of success.

Choice phase - It's that phase in which a man feels happy to choose a particular interest or passion in hope to make it a career. Here a man is boosted with confidence and self trust.
Struggle phase - It's a midway point where a wishes and dreams struck down with few realities and temperorary struggles. Man tries all his ways to confront the challenges thrown away in his field of interest.
Deciding phase - This period of time let the person stand between two choices - row a boat or set the boat along seashore. Here a most significant decision is been taken by a man whether he has to continue or stop. And these choices is backed by a question, "Is it certain that I will get a success in future."
Whoever fails to achieve a surety of being successful in future will always have reasons to manipulate an answers of not continuing a particular interest or passion. While a man who chooses continuity, owns patience, faith, hard work, confidence and self trust brings them a basket of surety of living a prosperous life thereafter.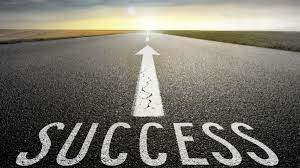 There are some key points which are to be kept in mind in a way of success.
Avoid the temporary hurdles and move ahead in perusance of interests or work.
Make your work's growth affected by only learnings and improvements.
Keep your experiences and tasks in mind.
List out the factors which positively improves your work.
Take care of your mental health.
Make your goals your first priority.
Be particular of time.
Avoid procrastinations.
Don't think too much about the success rather think of techniques which can bring you a success.
Work on your weaknesses with the support of your strength.
One who is absolutely sure about his success would approach positively as compared to the one who is less confident about his success in future.
Read more at : http://answers.mindstick.com/