When using Salesforce Analytics Cloud there maybe instances where you require to download data held in Salesforce Analytics Cloud. Using the example of the On Time data set. Downloading a CSV of a data set in Salesforce Analytics cloud, can now be done using the Salesforce Data set Utility.
The Salesforce Dataset Utility, is a client side tool, with many features and functions to assist with datasets on Salesforce Analytics Cloud. Features include:
1. Uploading Datasets
2. Delete a Dataset
3. Edit Dataset XMD
4. Edit Dataflow JSON

To start Salesforce Data set Utility, follow the instructions on the tools git hub page.
Once authenticated you will be met with a list of all data sets included in your instance, select which data set you would like to download, and click on the data set name.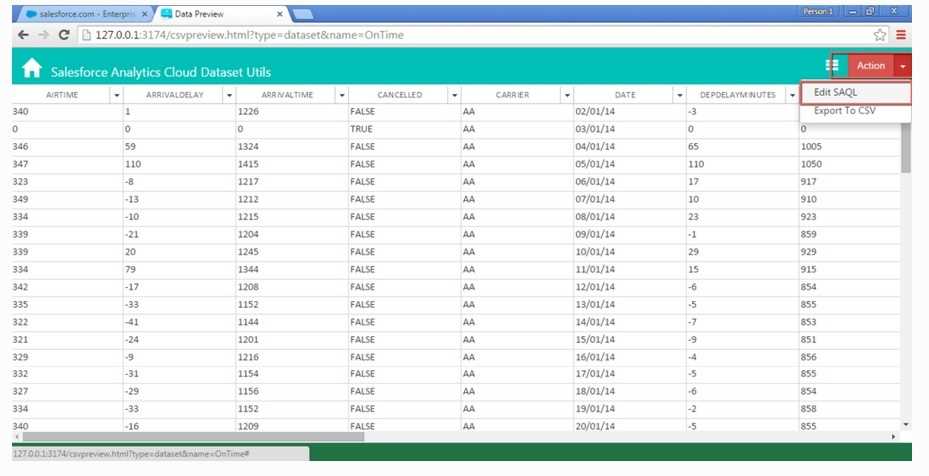 Once you have selected a data set ( I have selected On Time ), You will be met with a default query including a number of columns and 100 rows. To access to look or edit the query that is pulling the data from Salesforce Analytics Cloud, click on the Action Button drop down in the top right hand corner and select "EDIT SAQL".
Once the "Edit SAQL" button is pressed you will see the SAQL Query Editor, allowing you to adjust the query on the page. In order for you to download the data set all of the columns will need to be included as well as the rows.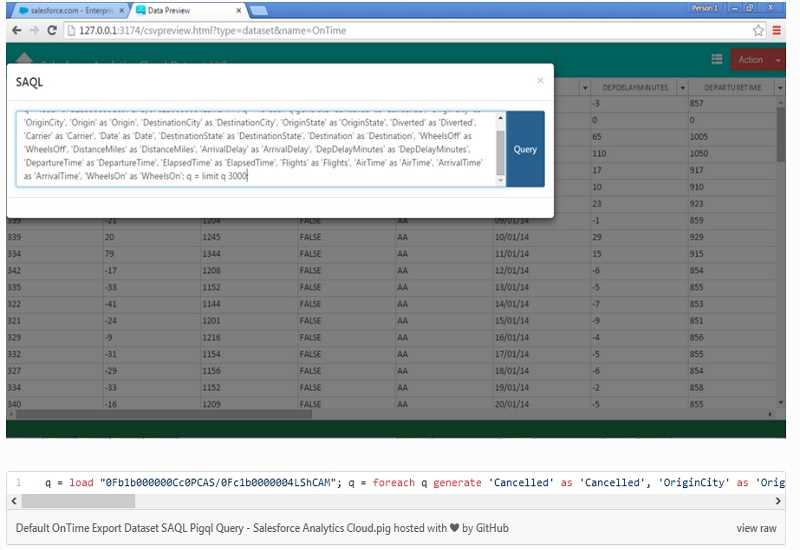 However to download more rows the query needs to be adjusted:
From:
q = limit q 100;
To:
q = limit q 3000;
If you found this post useful, Make sure, you can check out our online Learning courses for more tips, tricks and techniques for effectively to uncover unique insights from your data. BISP is most trusted and branded name in online education across the Globe. They also know for high quality education services in low cost & having Subject Matter Experts for DHW and BI Technologies. Their blogs, learning material, learning videos and case studies are read across the globe.