Three mistakes of life is a novel written by Chetan Bhagat. It is his one of the best selling book. Chetan who had been banker earlier moved to writing field has written few novels which allure Youth at large.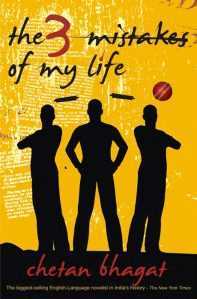 This novel is a story of three friends named Govind, Ish and Omi who had their individual dreams. Govind wants to earn money and thinks continuously about it while Ish was a cricketer. Omi has limited skills so he makes friends.
In this book, he has narrated about the turmoil of life where nothing comes too easy. They too had to face the turbulence of life before setting their life.