The Topographical Maps of India are designed by "The Survey of India". Topography stands for, accurate representation of the large-scale details, using contour lines and representing physical landscape and features.

The Survey of India is the solely responsible organization in charge of mapping and surveying and was established in the year 1767
. The organization was founded with The Great Trigonometrical Survey (GTS) on April 10, 1802, by the well-known surveyors Colonel Lambton and Sir George Everest.
The Survey of India is the
oldest Engineering Department of the Indian Government
. The members in this department are selected from the Civil Services of India cadre and
Indian Army Officers
from the Corps of Engineering.
Headquarter of the Survey of India is at Dehradun.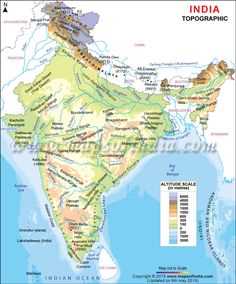 All over India, there are 23 Geo-Spatial Data Centre and each handling the specific
administrative
area. The basic and most important unit of Survey of India is its 'Surveyors'. The candidates were selected through competitive exams of Indian Engineering Services, organized by the
Union Public Service Commission
.
The Survey of India also prepares maps to fulfill the purpose of Defence and Civilian both from a different perspective
. They refer the standard for the shape, extent, and geographic feature allocation of the country. These maps development are very helpful for modern India and building the nation as a more qualified and proper allocation of features. The department of India responsible for handling the activity of Survey of India is 'Department of Science and Technology'. The Ministry of Science and Technology is handled by 'Dr. Harsh Vardhan'.
These maps show the accurate details of each part of the country
. These maps are used to carry out the
development
activity in the country, as well as help scientists and researchers to plan Scientific Research and Expedition, and the Developmental Planning Projects.