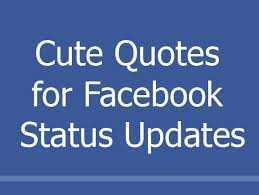 Posting status on Facebook is a way to share your thoughts. It allows users to receive information about what their friends are doing, reading or what they are watching.

Cute people should post cute status, to make Facebook interesting the status upload should be meaningful. If you don't have any new idea to make it interesting then go through my some cute status. Choose the cute status according to your choice and share it to impress your Facebook friends. Sometimes to explain the feeling the person has no words.
To help you maintain your reputation in the cyber world. So, here is some cute status
• When I think about you. I don't feel so alone.
• Life becomes romantic when eyes start looking at someone silently. But life becomes more romantic when someone starts reading those eyes silently.
• Life is like a party, but without you, there is no reason to celebrate.
• Don't wait for the perfect moment, take a moment and make it perfect.
• God couldn't be everywhere, so he created mothers.
• You're the angel that gives me wings fly high.
• The moment I want to be with you, I close my eyes.
• Every love story is beautiful, but ours is my favorite.
• You can never fall in love with someone you can never laugh with.
• A smile is the best makeup a girl can wear.
• I love the sound of the people I love, laughing.
• The sincerest love is the love of food.
• Life is trying things to see if they work.
• Learn from yesterday, live for today, hope for tomorrow.
• Wherever you go, go with all your heart.
• It is never too late to be what you might have been.
• God really creative, I mean just look at me.
These cute statuses will get your Facebook not only noticed but also liked, shared, tagged and commented on. Use them as they are or take inspiration from them to come up with your own masterpiece.
CHEERS!