Hukum Singh
, who passed away recently, was the MP from which
Lok Sabha constituency of Uttar Pradesh?
Hukum Singh, who passed away on 3rd February 2018, was the Member of parliament (MP) from Kairana Lok Sabha constituency of Uttar Pradesh.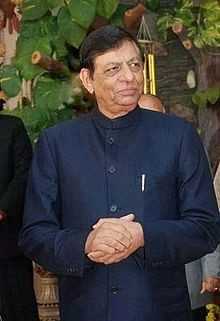 Biography Of Hukum singh:
He was born on 5th April'1938 in the small town Kairana near Shamli Uttar Pradesh. He completed his Graduation and LLB degree from University of Allahabad. After completing Law, he commissioned in Army as Captain and took part in war against Pakistan. For 3yrs he posted in Poonch and Rajori sectors. After that posted in Andhra Pradesh for more than one year as a Captain. After several years of service in Indian Armed Force he opt voluntary retirement and started practicing Law in Muzaffarnagar, In 1974, he active in Indian politics and served as the Member of Parliament from Kairana in Uttar Pradesh. Hukum singh belonged to the member of Bhartiya Janta Party (BJP). He was a member of the Panel of Chairpersons of the 16th Lok Sabha committee, and in Water Resources he was the Chairperson of the Standing Committee.
He was priorly been elected as a Member of the Uttar Pradesh Legislative Assembly for 7 terms (1974–77,1980–89,1996-2014). He has also served as a Cabinet Minister in Uttar Pradesh governments under both BJP and the Congress he had successfully contested from Kairana.
Condolence:
The 79-year-old leader Hukum singh was admitted to JP Hospital in Noida for nearly a month due to respiratory problem but doctors not able to save life and died on 3rd feb evening.
On death of Hukum singh, Prime Minister Narendra Modi express their feeling onTwitter, "Sad by the demise of MP and veteran leader from Uttar Pradesh, Shri Hukum Singh Ji. He served the people of UP with great leanness and worked for the goodness of farmers. My thoughts are with his family and supporters in this hour of mourn."
A Great Loss!!